We are exhibiting on the
Windenergietagen stand in Warnemünde
07. – 09.11.2017: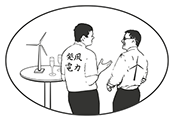 GEPA GmbH – A process automation company
GEPA GmbH now runs in its second generation, focuses on innovative solutions for industry 4.0. This entails the development of intelligent sensors, online measuring systems and individual ITC solutions for the M2M field.
In addition to our measuring systems, we have developed the communication system WOTSPOT®. The system offers options for mobile interaction and to digitalise and simplify processes. We provide complete solutions in both measurement technology and digitalisation/communication systems, which we customize to your exact individual needs. We aim to develop and implement elaborate, simple, and economical solutions.
When developing individual solutions for our clients, we focus on:
high quality, cost-effective and functional solutions
connecting systems and digitalization of processes (industry 4.0, Internet of Things, cloud-based systems, M2M-communication)
early application of our systems under real-time conditions
short development periods
maximum user-friendly
appealing and practical product design
flexible system architecture
a comprehensive service for our customers
Over the last 45 years, GEPA GmbH has earned a highly respected reputation all over Europe, as a service provider for the engineering of analog and digital measurement conditioning systems (MOM). Our products and services represent reliability, quality, and consistency.